Mary Ruth Velicki is a fellow pelvic pain sufferer with her own unique healing journey.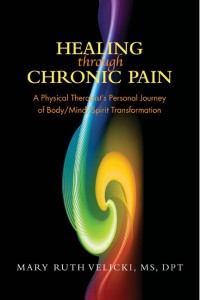 Determined to find relief from intense, debilitating pelvic pain that plagued her for years, she tried a plethora of treatments from the Western, Eastern, and alternative sides of medicine. To her surprise, she underwent incredible healing that extended beyond her physical body to her full person and experienced many direct connections between her body, mind, and spirit. In Healing Through Chronic Pain, Mary Ruth recounts her five-year journey of "healing through the layers" and personal transformation. Along the way, she shares the treatment strategies she used and the support she received from a team of professionals to move past the pain and to heal her whole being.
I was initially drawn into Mary Ruth's story because of its similarity to my own pain journey (we even share some of the same caregivers).  I'm amazed at the level of detail she recounts of her journey—she must have kept very good notes about her pain, treatments, and personal experiences throughout.  But what really deepened my interest was as she began explaining the part of her journey through Eastern medicine and alternative approaches to healing.  One of the unique traits that she brings is her background as a physical therapist.  This not only allows her to understand and explain her symptoms very specifically and anatomically, but also to approach these non-traditional healing methods with a skepticism that provides objective descriptions of her experiences.
In reading Healing Through Chronic Pain, Mary Ruth brought up concepts that I hadn't necessarily considered yet made a lot of sense as I thought through my own pain journey.  The descriptions of her personal experiences are so complete that it opened up my own thinking to these aspects of healing.  One example is the connection between our emotional health and that of our body.  As Mary Ruth describes, "In my experience, becoming aware of my emotional and behavioral patterns and altering them in positive directions directly influenced the unconscious, automatic reactions in my body."*  I personally have a tendency to compartmentalize my emotional hurts, not always speaking up and reaching out for help in processing the pain and feeling my emotions.  Burying this emotional "baggage" is a life-long pattern that has certainly been a contributing factor to my own pelvic pain.
Some of the concepts described in Healing Through Chronic Pain I have also encountered through my own healing process and described in other posts, such as the dichotomy of doing and being.  Here is one of the ways Mary Ruth describes this:
[I]n the past, I was "being through doing"—a way of living that is highly valued in my family and culture.  Then, during my healing process, I began to experience "doing through being." […] If you focus on being productive or busy, you connect with others when you find the time.  In contrast, if you are just "being," you are much more available for real connections. […] [I]t occurred to me that when I was "being through doing," I was using the activity to define or validate myself.  When I was "doing through being," my actions were a joyful expression of my inner person.*
I don't believe it is a coincidence that Mary Ruth and I share many of the same emotional and behavioral patterns.  I think that anyone suffering from pelvic pain (or really any chronic pain condition) would benefit from reading this book.  If you have tried the usual methods and still have pain you might want to consider the other aspects of healing beyond just the physical.  I am still exploring these multiple facets of my own healing and I am very appreciative of Mary Ruth's openness in sharing the personal details of her own healing journey in Healing Through Chronic Pain.  Her story truly shows that no matter the depths of your pain, there is hope!
*First quote is from page 215; second quote is from page 164.
---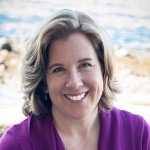 Mary Ruth Velicki, MS, DPT, has been a physical therapist for almost thirty years. Throughout her career, she has specialized in the rehabilitation of adults with neurological disorders. She spent eight years developing and teaching graduate courses for several universities, and she has published research in the journal Experimental Brain Research. After working diligently for years to recover from her own chronic pelvic pain, she now spends her time writing, speaking, and working with clients using a combination of physical therapy and alternative treatments.
For links to purchase Mary Ruth's book, Healing Through Chronic Pain: A physical therapist's personal journey of body/mind/spirit transformation
, or to learn more about her personal journey and clinical practice check out her website healingthroughchronicpain.com.