I want to share a recent interview from my favorite fellow pelvic pain blogger, Faith Cornwall, and her newly renamed website, My V Matters.* Faith is a V pain warrior. She has amassed a ton of information throughout her own healing journey and is committed to the cause of support and sisterhood of women with V pain. If there is ever a V pain protest march on the Whitehouse lawn, Faith would be leading the charge with a pink bullhorn and matching My V Matters picket sign (that's a good idea…let's plan it!). In the meantime Faith is spreading awareness, knowledge, and encouragement through her blog. I can't help but be inspired by her, and I can't get enough of her blog which brings me to her Lube-a-licious Interview with Sarah Mueller of Smitten Kitten.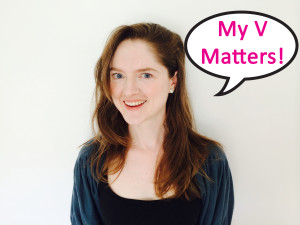 If you struggle with painful sex you absolutely have to listen to this interview. If you deal with pelvic pain and use tools such as dilators or see a Pelvic Floor Physical Therapist to treat your pain you have to listen to this interview. If you don't have any pelvic or sexual pain issues you have to listen to this interview. Basically, everyone should listen to this interview! Sarah Mueller shares so much important information about personal lubricants that you never knew, no one ever told you, but you need to know! Check out the interview on MyVMatters.com here.
And don't let the length deter you—the time is completely worth it! I absolutely recommend you listen to the full interview, but here are some key points to focus in on.
15:00…learn about osmolality and its importance when choosing a water-based lubricant
25:00…learn about pH and finding a lubricant with an ideal pH level
35:00…learn about xenoestrogen and parabens
41:00…tips for selecting a lubricant that is right for you (based on all of the great information already shared during the interview)
43:00…the positives of choosing a silicone-based lubricant (and a quick tip for when using a water-based lubricant!)
49:00…learn about organic and all-natural lubricants
54:00…learn about government oversight of lubricants
I also recommend you check out Faith's Lube Preamble on the benefits of using a personal lubricant.
Thank you Faith for all that you are doing to spread the word that my V matters and when sex hurts there is hope!
*You may have noticed my previous mentions of YatraYoni.com which is one and the same as MyVMatters.com.