Mary Ruth Velicki is a fellow pelvic pain sufferer with her own unique healing journey.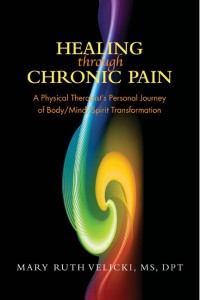 Determined to find relief from intense, debilitating pelvic pain that plagued her for years, she tried a plethora of treatments from the Western, Eastern, and alternative sides of medicine. To her surprise, she underwent incredible healing that extended beyond her physical body to her full person and experienced many direct connections between her body, mind, and spirit. In Healing Through Chronic Pain, Mary Ruth recounts her five-year journey of "healing through the layers" and personal transformation. Along the way, she shares the treatment strategies she used and the support she received from a team of professionals to move past the pain and to heal her whole being.
I was initially drawn into Mary Ruth's story because of its similarity to my own pain journey (we even share some of the same caregivers).  I'm amazed at the level of detail she recounts of her journey—she must have kept very good notes about her pain, treatments, and personal experiences throughout.  But what really deepened my interest was as she began explaining the part of her journey through Eastern medicine and alternative approaches to healing.  One of the unique traits that she brings is her background as a physical therapist.  This not only allows her to understand and explain her symptoms very specifically and anatomically, but also to approach these non-traditional healing methods with a skepticism that provides objective descriptions of her experiences.
In reading Healing Through Chronic Pain, Mary Ruth brought up concepts that I hadn't necessarily considered yet made a lot of sense as I thought through my own pain journey.  The descriptions of her personal experiences are so complete that it opened up my own thinking to these aspects of healing.  Continue reading →