I love that we have a day set aside just for gratitude—for thanksgiving. It's a great time of year to consider how far you've come and how full your life is. Sadly, we tend to view Thanksgiving more as the first day of the busy holiday season. Stores now open on Thanksgiving Day to start the Black Friday shopping rush. And what a consumer driven world we live in. Be honest with yourself for a moment. How much time do you spend thinking about what you do not have—what you want or maybe what someone else has? And how much time do you spend actually being grateful for what you do have? I've seen many articles about how gratitude is good for your health. It is sad to think that we do it so infrequently that we need to be reminded that it's a healthy habit (like eating your vegetables or exercising). Gratitude should be more like breathing or laughing. It should be part of our everyday, part of our perspective in how we view the world around us, part of who we are. We are human beings after all, and we have so much to be grateful for.
Maybe try gratitude, at least for a day. Think about all of the people that you are thankful for—maybe even tell them that you are grateful to have them in your life. You might be surprised at how it makes you feel—like a deep breath of fresh air. Even if you're in pain—especially if you're in pain—take some time for gratitude. It might take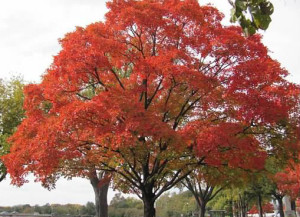 you longer to push past the negative thoughts. But clear away those dark clouds and you will find a bright sun shining down on you. What are you thankful for? Maybe it's the smell of cinnamon and pumpkin in the air. Maybe it's the changing leaves on the trees or the chill of a fall night. Maybe it's your favorite blanket or an excuse to listen to Christmas carols. Or, maybe it's the sense of pride and accomplishment of another year well-lived, the thought of new friendships formed and new dreams envisioned. Whatever it is that you are thankful for, show some gratitude. Most of all, show yourself some gratitude—you are more than worth it!
I am thankful for you—close friends who support me in reading this blog and far away friends whom I haven't yet met. Perhaps you stumbled upon this blog looking for hope. You are who I write this for. You are part of my year well-lived and my new dreams envisioned. I am grateful for you!
See, that wasn't so bad (it's much easier than getting in your 10,000 steps). Now it's your turn to practice being grateful. I would love to hear some of the things you are grateful for. Please post a comment (and you can use an alias if you prefer to remain anonymous). May you have a blessed and gratitude-ful Thanksgiving!