I'm excited to share that the Orange County Interstitial Cystitis (IC) Support Group is hosting a talk on Considering the Mind-Body-Spirit Connection.  The guest speaker will be Mary Ruth Velicki, MS, DPT who you may remember from my review of her book, Healing Through Chronic Pain.
Mary Ruth Velicki, MS, DPT will present concepts about the mind-body-spirit connection using information from the literature, her personal experiences, and case examples using clients with interstitial cystitis. The purpose of this talk is to introduce a holistic approach and new avenues that may be helpful for healing. The role of the nervous system will be highlighted along with concrete strategies to calm both the body and mind.
I was lucky enough to get a mini preview of what Mary Ruth will be sharing and the talk will be packed full of great information that can be applied to any chronic pain condition, but especially pelvic pain.  If you are in the area, I recommend you check out this support group and especially this talk on the Mind-Body-Spirit Connection.  Not only will you gain helpful knowledge about your pain condition, but you will get an opportunity to meet others who share similar pain journeys. You may even run into a blogger named Sarah!
Here are the details for the talk and the support group.  Please be sure to RSVP to one of the leaders so they know to expect you, and leave a comment here so I can look forward to meeting you in person!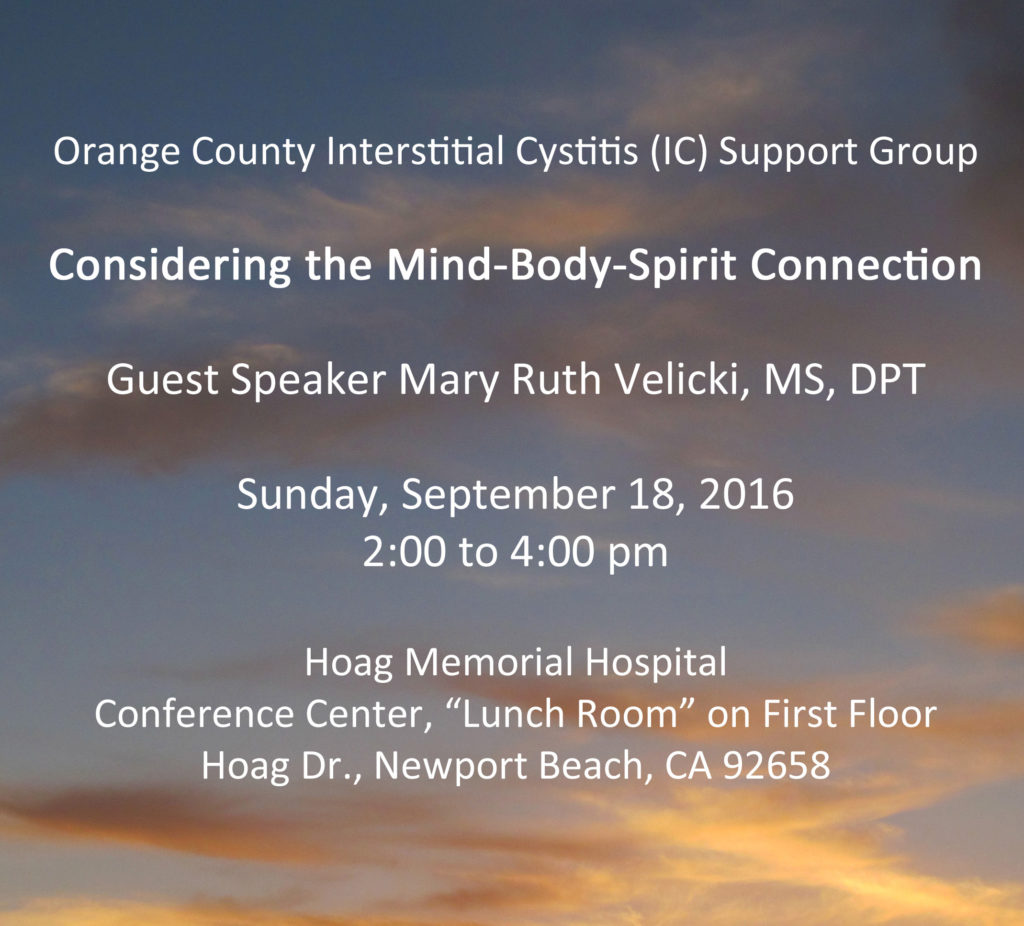 Directions:
From south Orange Cnty, take the 5 N (north) to the 405 N to 55 S (south) which becomes Newport Blvd.  Take this to PCH N.  Once on PCH take an immediate right onto Hoag Dr.  This curves sharp right.  Conference center (Bldng. J) will be on the right, about two hundred yards.  Turn right in drive immediately after Conference Center building.  Parking will be on the left in lot P8.  From north OC take the 405 S or the 5S to 55 S and follow as above.  Take elevator DOWN to first floor and follow signs!
---
Contact Info:   Lori Moody, (714) 290-1531 or Karen Barcelona, (949) 246-0638 and at icocsg@gmail.com
Disclaimer: The Orange County IC Support Group (OCICSG) does not engage in the practice of medicine.  It is not a medical authority nor does it claim to have medical knowledge.  In all cases the OCICSG recommends that you consult your own physician regarding any course of treatment or medication.