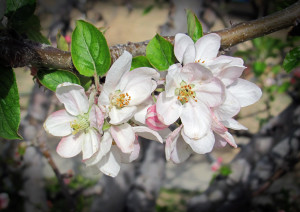 For we are what he has made us, created in Christ Jesus for good works, which God prepared beforehand to be our way of life. Ephesians 2:10 (NRSV)
This verse has a lot that we can apply to our lives such as doing good works and the way of life Christ followers should live. But what has personally spoken into my life is the first line—we are what he has made us. If you suffer from painful sex or any kind of pelvic pain, it can be easy to fall into negative thoughts. What is wrong with me? Did God mess up when he created me? Did I do something wrong along the way to end up here? Why me? Why did it have to be this way?
Dealing with sexual pain especially, I personally struggled often with feelings of what is wrong with me? Feeling like my marriage issues were my fault, and we wouldn't be having these struggles if I could just have sex like a normal person. I felt like my husband would have been happily married if he had just married someone else, someone who didn't have pelvic pain.*
The truth is that this world is broken and pain and sadness have existed since the first fall of man in Genesis when sin entered the world. Bad things happen to good people and there is no way to fully understand why. But the truth is also that God created us, each one of us individually. And God doesn't make mistakes—he knew what he was doing when he created you! The New Living Translation of Ephesians 2:10 says we are God's masterpiece. You are God's masterpiece! I am God's masterpiece, hypertonic pelvic floor muscles and all! I don't know about you, but recognizing that gives me peace.
If God created me this way, then He also has a purpose and a plan for my pelvic pain. He has a purpose for good to come out of it and a plan of a path through healing. He also promises not to give us more than we can handle without also providing what we need to endure (1 Corinthians 10:13). I encourage you to take some time to consider how you are God's masterpiece. Try replacing your thoughts of "what is wrong with me?" with "I am who God has made me." Yes, I have a disorder that causes pelvic pain and painful sex. It has been difficult and brought hardship and sadness into my life. But, God also made me strong, stronger than most. He also gave me a solid foundation in Him so I knew where I could turn to for comfort and strength when I needed it. I don't need to question what is wrong with me because I am what He has made me—I am God's masterpiece.
*God eventually eradicated that negative thinking from my mind in a supernatural way.  I will share that story in a later post.